It's called PESCO.  It stands for the Permanent Structured Co-Operation and is a treaty among EU nations providing a framework for mutual defense that many EU superstate proponents have been pushing for a long time.
Technically, it is not a European army, per se, but many consider it a necessary first step as it requires each country to strengthen its military assets and defense capabilities and cooperate if needed.
There are plans for enhanced joint training, streamlining of cross-border military operations, and medical operations.  It establishes a defense fund for procurement of weapons and the development of "rapid reaction forces," armed with tanks and drones.
The initial funding will include a 5 billion-euro ($5.83 billion dollar) defense fund. PESCO allows for integrated armed forces, a combined pool of Defense spending, and the creation of a joint command headquarters.  European Union Foreign Affairs Chief Federica Mogherini said the pact will focus not just on military cooperation, but also on cyber-security.
The idea of a central defense was proposed back in the 1950's, but Britain resisted and the movement fizzled.  Now, 25 countries have signed on to come together on planning, operations, and deployment.  Only Britain, Malta, and Denmark have not signed on.
EU Nations That Have Signed On To PESCO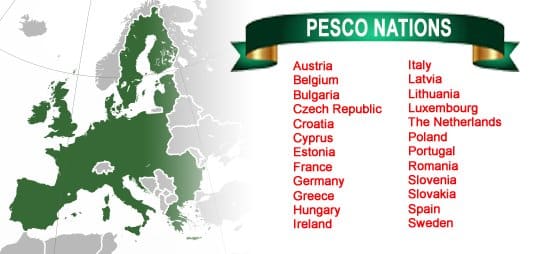 Overlap With NATO
There is overlap with NATO nations, but not all NATO allies are taking part in PESCO.  NATO, as an organization, supports the move, but not all NATO countries support it.  Turkey, for example, is a NATO member, but not a member of the E.U.
Turkey hosts about five thousand U.S. Air Force troops, but it has its own issues with Germany and has even discussed joining a security bloc with China, Russia, and Central Asian nations (Kazakhstan, Kyrgyzstan, Tajikistan, Uzbekistan) called the Shanghai Cooperation Organization (CSO).
United States Support
Germany, which led the charge to establish joint E.U. military operations has concerns that the United States can no longer protect Europe. U.S. President Donald Trump's warning that they need to pay their own way if they want U.S. military help, coupled with the United Kingdom's Brexit from the European Union, fueled talks that have been stalled for decades.
"Over the past decade, it has become crystal clear that our American partners consider that they are shouldering too much of the burden for their wealthy European Allies," said European Commission President Jean-Claude Juncker in a June speech, advocating the creation of a joint defense operation.  "We have no other choice than to defend our own interests."
In fact Gernmany's foreign minister has expressed hopes of a European superstate becoming a global player in international politics. Foreign minister Sigmar Gabriel said it was time Europe found its "own voice" instead of letting the US dictate global affairs while the continent argues amongst itself.
Whereas Britain is not part of PESCO, the door is open for future discussions.  Britain and France, both nuclear-armed, came together in 2010 to establish the Combined Joint Expeditionary Force, which promised British Armed Forces and French Armed Forces to provide mutual aid and deployments with land, air, and sea forces under a combined command, control, and support logistics. 
Full Story
Conquer your Inflammation in a few days!
Say goodbye to pain and inflammation! Infla-MAG is beneficial for people who experience:
Back Pain
Swelling Pain
Arthritis
Menstruation Pain
100% made of natural and herbal products.
Get yours today!